Michael freakin' McDowell!!
I still can't believe he won the Daytona 500. It was great to see an underdog take the trophy in this year's Great American Race even though the actual racing was quite boring for about 90% of that event.
But now that we got the crapshoot race finished with, it's time to go road course racing…again! The NASCAR Cup Series teams will be at the Daytona Road Course this weekend for the O'Reilly Auto Parts 253. Yes, this race is only 253 miles in length, and thus only 70 laps.
As you probably remember, we just raced here for the Busch Clash on the Tuesday before the Daytona 500. But that race only featured 21 cars in it. This time, there's expected to be a full field of 40 cars, and road course master Chase Elliott is on the pole. He almost won right here last week before taking himself and Ryan Blaney out and allowing Kyle Busch to grab the win. Speaking of the Busch Clash… how much weight should we put into those race results?
Analyzing The Busch Clash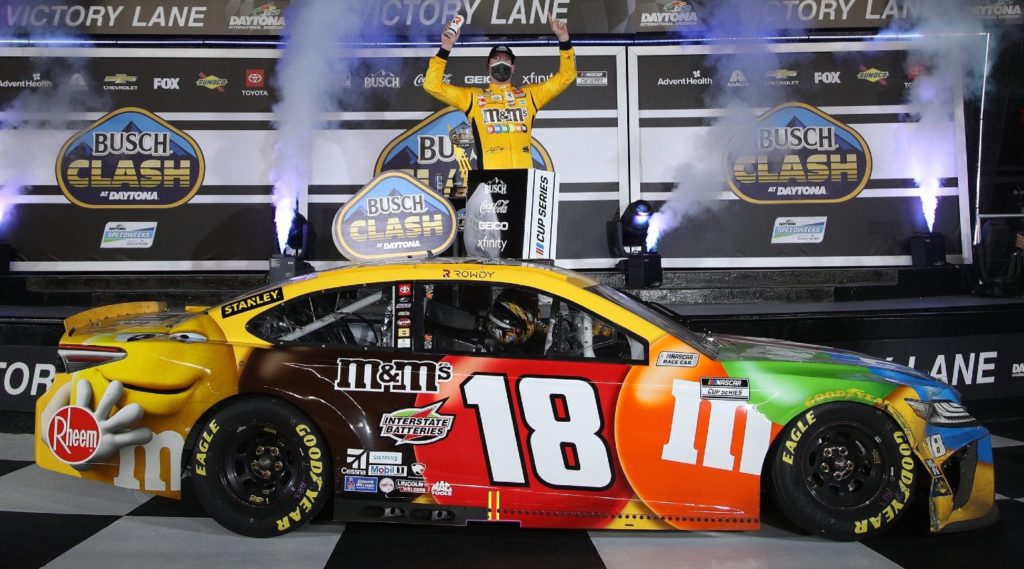 If you're looking at the Busch Clash race data, just take this one with a grain of salt. That's all I'm going to say.
What's probably better than looking at the numbers for that race is just pulling up the replay on YouTube and watching actually how these guys raced. Who looked good on the track. Why? Because there were a ton of strategies in the Busch Clash and teams were trying to win and nothing else. They won't have that mindset here this weekend for the "real" race.
If you want to see the data for last week's Busch Clash, it's linked below. Kyle Busch ended up winning but it should've been Ryan Blaney in victory lane. He passed Chase Elliott for the win on newer tires there at the end, and then Chase got back to his bumper and ended up wrecking both of them while gunning for the win. Kyle Busch was the benefactor and took the victory–although, to be fair, Busch was great all race, and had the 3rd-best average running position and best Green Flag Speed.
2021 Busch Clash Loop Data Box Score = click here
2021 Busch Clash Green Flag Speed Chart = click here
The Favorites
Chase Elliott – Chase Elliott's road course prowess might seem over-stated, but it's not. We honestly haven't seen this kind of domination in a long time. In addition to winning four of the last five races on road course tracks, Chase Elliott was in contention to win the Busch Clash here at the Daytona Road Course last Tuesday night. Oh, and don't forget that he had to start in the rear for that race and then basically used it as a practice session before getting to the front at the end. Even on old tires, Chase could've won that race over Blaney. Once again, Elliott is the heavy favorite at sportsbooks, dipping down to +225 on DraftKings Sports Book on Tuesday after opening at +250. Looking at fastest laps at road courses, Chase has posted 99 fastest laps over the last two seasons on this track type. Martin Truex, Jr. is 2nd-best with 70, and then William Byron is 3rd-best with 31. Just blazing fast speed out of that #9 Chevrolet and Chase Elliott. One last thing: Chase is on the pole this Sunday. He could lead this thing from start to finish.
Martin Truex, Jr. – One of the few surprising happenings during the Busch Clash last week was Martin Truex, Jr. No, it wasn't surprising that he had a car that could win the race, but it was a bit surprising just how fast his #19 Toyota was. Truex essentially came through the field twice that night (he started back there, and then had a penalty while leading, too) but he came through the field like a man on a mission. It was fun to watch Truex maneuver through the field that night, and if his car has similar speed on Sunday, he could definitely win this race. The only bad thing is, Truex is going to start mid-pack thanks to his lackluster finish in the Daytona 500 last Sunday. Still, he's got 70 laps to get to the front–Martin just has to hope that Chase Elliott doesn't already have too much of a lead to overcome once he gets up to 2nd.
Denny Hamlin – At 12-to-1 odds, it's worth putting some action on Hamlin to win this Sunday. That's a great value there for a driver of his caliber. Over the last four road course races, Hamlin has finishes of 2nd here at the Daytona Road Course last season, 5th at Sonoma in 2019, and 3rd at Watkins Glen that same year. Specifically here at Daytona last year, Hamlin had the 2nd-best average running position (5.0), right behind Chase Elliott (3.2). Again, I just think this is a great value bet right here at 12-to-1, but Elliott and Truex are the clear favorites on Sunday. In the Busch Clash, Denny led the most laps and also had the most fastest laps, for what it's worth.
Underdogs
William Byron – My apologies if I sound like a broken record here, as many of these drivers were mentioned in my Preview for the Busch Clash last week, but that's just how it works when you race at the same track within 10 days. Across the board, William Byron's numbers are impressive at road courses. He ranks 3rd in number of fastest laps at this track type over the last two years (behind Elliott and Truex, of course), and his average driver rating of 99.5 in those five races is also 3rd best behind those two guys. As far as average running position, if you look at just the Daytona Road course race and the two most recent Charlotte ROVAL events, Willy B actually ranks 2nd, ahead of Martin Truex, Jr. (9.3 to 9.4), both well behind Chase Elliott (6.0). In the Busch Clash last week, Byron had an up and down night and ended up finishing 5th.
Christopher Bell – Heading into mid-week, Christopher Bell is listed at 60-to-1 odds to win Sunday's race at the Daytona Road Course. But that's not really what I'm interested in because it's quite unlikely that Bell wins this race. What I can't wait to see are the lines for a top 10 finish. You may very well see "Christopher Bell To Finish Top 10" as one of my Best Bets this weekend. Why? Because I love the Joe Gibbs Racing cars at road courses. Hell, even Erik Jones turned into a legitimate top 5 machine in this #20 Toyota on the road courses while he was with JGR. You don't think Christopher Bell can do the same thing? Last year in the two road course races Bell finished 21st and 24th, but I think we see a "new" Christopher Bell this time around. For what it's worth, his average running position in those two races was 13.3, which was 9th-best in the series.
AJ Allmendinger – Shew. DraftKings Sports Book has AJ Allmendinger listed at 12-to-1 odds for Sunday's race, which makes puts him tied for 3rd-most-likely-to-win according to the book. This guy hasn't raced in a Cup Series car since the 2018 season, although, to be fair, he did finish 7th at the Charlotte ROVAL that year. He's just that good at road course races, and sports books acknowledge that. Allmendinger's only road course win in the Cup Series came at Watkins Glen back in 2014, and he also won in the Xfinity Series at the Charlotte ROVAL last season (and also at Atlanta, but that's not a road course). Allmendinger will pilot the #16 Kaulig Racing Chevrolet on Sunday, which has never made a Cup Series start on a road course and has just two starts in this series ever (both at superspeedways). I'd be lying if I said the longevity of Allmendinger's equipment didn't scare me, but that's why he's considered an underdog on Sunday.
Daytona Road Course Betting Odds
As of Tuesday afternoon, DraftKings Sportsbook had the following odds listed to win the O'Reilly Auto Parts 253. There shouldn't be much line movement through the week like we saw with the Busch Clash race here last week.
Chase Elliott +225
Martin Truex, Jr. +400
AJ Allmendinger +1200
Ryan Blaney +1200
Kyle Busch +1200
Denny Hamlin +1200
Kevin Harvick +1400
Joey Logano +1600
Brad Keselowski +1800
William Byron +2000
Alex Bowman +2800
Kurt Busch +2800
Kyle Larson +3000
Chase Briscoe +4000
Matt DiBenedetto +5000
Aric Almirola +6000
Christopher Bell +6000
Cole Custer +6600
Erik Jones +6600
Michael McDowell +6600
Tyler Reddick +8000
Ross Chastain +10000
Austin Dillon +10000
Bubba Wallace +10000
Chris Buescher +12500
Ryan Newman +12500
Anthony Alfredo +20000
Ricky Stenhouse, Jr. +20000
Justin Haley +25000
Ryan Preece +25000
Ty Dillon +40000
James Davison +50000
Daniel Suarez +50000
Josh Bilicki +75000
Corey LaJoie +100000
Cody Ware +100000
Joey Gase +150000
Timmy Hill +150000
Quin Houff +150000
BJ McLeod +150000